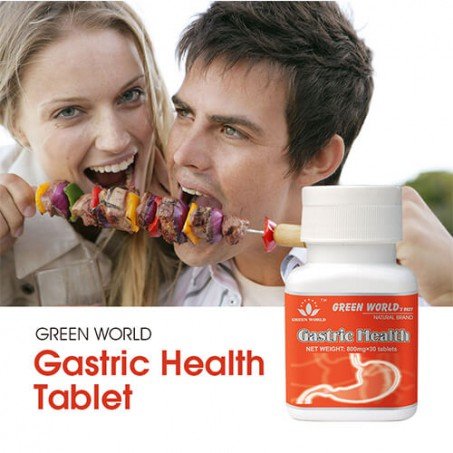 Green World Gastric Health Tablet
Price 3500 PKR
Save - 22%
Brief : It Improves Digestion And Gastrointestinal Movement By Restoring The Functions Of The Smooth Muscles In Intestine.
Size : 800 Mg X 30 Tablets
Green World Gastric Health Tablet in Pakistan
Green World Gastric Health Tablet Can Help Restore The Functions Of The Smooth Muscles In Intestine Thus Improves Gastrointestinal Movement And Digestion. In Terms Of Gastric Function, It Improves The Gastric Secretion And Activity Of Pepsin; Increases The Total Acidity And Total Output Of Gastric Juice, Thus Improves Digestion. As For Small Intestine, It Relieves The Spasm Of The Smooth Muscles Therefore Improves Its Absorption Of Nutrients.
Recommended Use:
For Those With Dyspepsia Or Poor Appetite.
For Heavy Drinkers Or Those On Medication For Long.
For Those With Chronic Gastric Disorders.
2 Tablets Each Time, Twice In A Day. Preferably Chew The Tablets.
Composition: Hawthron, Malt, Radix Pseudostellariae, Dried Tangerine
Green World Gastric Health Tablets
Stomach Is An Important Organ To Provide Nutrients To The Human Body And To Sustain Our Lives. Gastric Disease Causes Impaired Absorption And Weakens Physical Conditions. Chronic Gastric Disease (Ulcer) Always Causes A Series Of Other Symptoms Such As Vertigo Headaches, Insomnia, Fatigue, Frequent Colds, Memory Loss, Impatience, Depression And Others. Gastric Health Supplement Tablets For Stomach & Digestive Health [3 Bottles] Are Used By Suctioning / Chewing 2 X 2 Tablets Before Eating Regularly Can Help Overcome Stomach And Digestive Problems Naturally.
Product Details:
Improving The Ability Of Poor Intestinal Smooth Muscles To Be Normal And Stimulate Intestinal Contractions That Are Useful For Digestive Function.
Helps Repair Smooth Muscle Cramps And Improve Digestive Function Of The Small Intestine.
Increases The Secretion Of Gastric Juices, Increases The Activity Of Gastric Pepsin.
Increases Gastric Fluid, Bile Secretion, Functions Of Gastric Enzymes, Strengthens The Stomach And Improves Digestion.
Strengthen The Function Of The Spleen And Stomach
Fill 3 Bottles Of Gastric Health Tablet Per Bottle Containing 30 Tablets X 800 Mg
User Groups:
People Whose Gastrointestinal Function Decreases.
People Who Have Poor Digestion And Appetite.
Ulcer Sufferers, Or Other Gastric And Digestive Complaints.
People Who Need To Protect Their Stomach, Including Those Who Often Drink Alcohol Or Drugs For A Long Time.
Patients With Chronic Stomach Disease
How To Use Green World Gastric Health Tablets ?
2 Tablets, 2 Times A Day, Chewed
Green World Gastric Health Tablet Price in Pakistan is 3,500/PKR