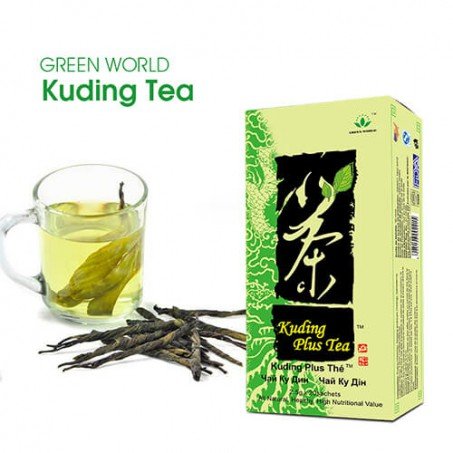 Green World Kuding Plus Tea
Price 2500 PKR
Save - 15%
Brief : It Alleviates Inflammation, Helps Detoxification, Relieves Pain, And Lowers Blood Pressure And Lipid Levels.
Size : 2.5 G X 20 Sachets
Kuding Plus Tea
Green World Kuding Tea Prevents and alleviate common disease such as cold, flu, rhinitis, itching eyes, e.t.c. Detoxifies and improves health.
Green World Kuding Plus Tea (Green Tea)
Green World Kuding Tea (Green Tea) is a popular drink that contains antioxidants and can help to control weight, it tastes like black tea but with more of a herbal flavor.
The green leaves in the herbs give the brew its distinct taste.
Kuding Tea (Green Tea) is an herbal drink that can help you prevent and alleviate colds or flus. It's also a detoxifier, so it reduces pain from headaches or sore throats. Plus, it helps protect the cardiovascular system by lowering blood pressure levels as well as lipid levels in the bloodstream!
You don't have to worry even if your goal isn't weight loss because it is a regulating Tea. It only take out extra body fat that you don't need.
This herbs is an ideal herbal brew which prevents and alleviates both colds/flu symptoms while being a great detoxifying agent combating headache or throat pains with its protective actions against cardiovascular disease.
Benefits Of Using Kuding Tea
Prevents common cold and flu
Alleviates rhinitis, itching eyes, red eyes and pain in the eyes caused by wind-heat;
Detoxifies and improves healthy bowel movement;
Improves mental focus and memory.
Accelerates blood circulation and reduces blood cholesterol,
Reduce blood sugar and blood pressure.
Prevent deterioration of heart and brain function.
Help maintains proper body weight and refreshes the skin.
Recommended Use of Kuding Tea
For many people, drinking this herbs is a pleasant experience. It's perfect for anyone looking to relax or refresh themselves!
Recommended for those with elevated blood pressure or lipid level.
For those with headache or sore throat.
Those who are prone to cold or flu.
Green World Kuding Plus Tea Price in Pakistan is 2,500/PKR
Syed Parvez Ali Shah Verified Purchase
2020-12-27 14:05:21

It Alleviates Inflammation, Helps Detoxification, Relieves Pain, And Lowers Blood Pressure And Lipid Levels.