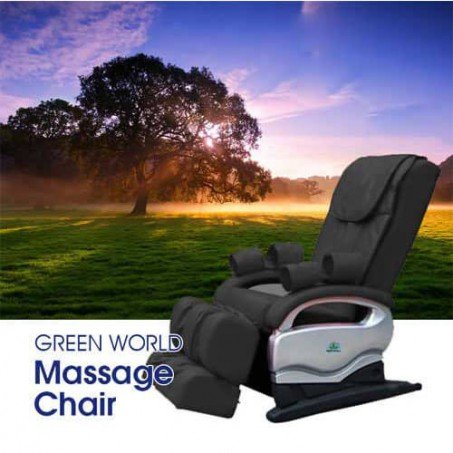 Green World Food Massage Chair
Price 138000 PKR
Save - 1%
MASSAGE CHAIR Online At "Green World Food Pakistan" With ? Ease & Speed ? 100% Genuine Product ? Fastest Delivery All Over Pakistan.
Green World Luxury Massage Chair In Pakistan
Lm-612 Green World Massage Chair Can Provide You Comfortable Massage And A Happier Life. A Set Of Intelligent Mechanical Arms (4 Wheels) Is Installed To Move Up And Down. It Can Imitate Professional Technician Techniques. It Automatically Adapts The Curve Of The Body To Give Massage On The Back Fully, Which Makes You More Comfortable. Lm-612 Massage Chair Is Designed Not Only By Complying With Human Engineering And Human Physiologic Reflex Principles, Give You The Best Service With The Lowest Price. All Specious Functions And Auxiliary Apparatus Are Removed For More Professional Techniques, And Pursuing Highest Cost Performance.
Green World Massage Chair in Pakistan
Imitates Human Massage By Applying Mechanic Rolling And Extrusion Power
Dredges The Meridians And Promotes The Flow Of Qi, Thus Balances Yin And Yang In Human Body
Relaxes Muscles And Increases Flexibility Of Joint
Revitalizes Stamina And Relieves Fatigue
Long-term Use Regulates Immunity
User-friendly Design Appears Beautiful And Elegant.
Uses Pro-environment Pu Shell Fabric As The Outer Cover For Massage Chair, Which Is Wear Resistant, Comfortable, And Has Strong Wrinkle Resistance.
User-friendly Designed Manual Control Apparatus Is Simple And Convenient To Operate. Under The Fully Automatic Mode, It Can Massage Neck, Waist, Back, Hip, And Leg Alternately Or Together. You Can Also Choose To Massage Single Part Of Your Body Independently. There Are 2 Massage Strength Gears That Are Available To Be Chosen.
Functions On Back: It Is Equipped With 2 Massage Heads At Neck Position, And 6 Groups (12 Massage Heads) Respectively At Back And Waist Position, Which Can Conduct Naprapathy And Malaxation Alternately Within Each Minute.
Cushion Function: 4 Spiral Vibrators Are Installed, Which Can Create The Functions Like Vibrating, Patting, And Percussing. Multiple Vibrating Modes Provide Comfortable Massage For The Hip
Functions On Leg: It Can Function As Leg-beautifying Massager. 4 Massage Blades With Massage Bumps (2 On The Right And 2 On The Left) Can Massage From The Outer Edge Of The Leg To The Inner Edge.
Use Two Armrests To Adjust The Back Of The Chair. The Back Of The Chair Can Adjust From 100£to 165£freely
On The Safety Aspect, It Adopts Multiple Safety Precautions Like Machine Overheating Prevention Function, And Safe Plastic Automatic Heat Dissipation Function, Which Can Prolong The Lifetime Of Product.
Massage Chair Function
Shoulder Massagemassage On Shoulder With Malaxation Can Prevent And Cure Scapulohumeral Periarthritis, Strain Of Shoulder Soft Tissue, And Well Alleviate The Sore Symptoms.
Waist Massagewaist Kneading Function Imitates Professional Massagers Kneading Techniques To Work On The Waist, Which Can Eliminate Stress And Fatigue, And Help Relieve The Ache Of Waist.
Hip Massagecushion Vibrating Function: Three Spiral Vibrating Massage Modes Are Available. The Massage Is Finished By The Cushion Inflation And Deflation. It Can Consume The Accumulated Energy, Enhance Elasticity Of Muscle, Keep Hip In Good Shape, And Then Improve The User's Overall Body Shape..
Leg Massageconduct A Kneading Massage On The Leg Can Boost The Legs Blood Circulation, And Change The Subcutaneous Fat Cells Arrangement, Restrain Fat Generation, And Then Achieve Slimming And Embellishing Effects. Which Works Very Quickly.
Improves Breathing Oxygen.
Green World Massage Chair Price in Pakistan is 1,38000/PKR
Qaiser Verified Purchase
2020-12-27 06:21:37

Great!